According to: ASTM D 5341, ISO 18894 and IS 4023 Meth.B
RELEASE 2023! New design with improved features:
touch screen control unit
improved thermal tuning for a better temperature control during the test
new report files with detailed test results information
diagnosis tool and remote connection with our support team
… and more!
General description
The CRI CSR Test System is an automatic equipment for determination of the Coke Reactivity Index (CRI) and Coke Strength after Reaction (CSR).
This test device is fully compliant with the specifications in ISO 18894, ASTM D 5341 and IS 4023 Meth. B Standards.
Vertical oven is based on 5 separate heating zones with individual temperature control systems and it is driven by means of solid state power units and temperature controllers and programmers.
Reliability and reproducibility of the results are assured by :
Accuracy of test temperature (1100°C) during all reaction time.
Isothermal temperature distribution in the coke sample
High accuracy by automatic mass flow meter and control device for CO2 and N2.
High accuracy temperature programmer and controllers.
Multizone oven with temperature indipendent controls (5 Digital PID loops).
Test process is carried on by the system with no needs of any action by the operator. Optional continuous weighing system is available to display and to record weight change of the sample during the test. According to Standards, a double drum tumbler device, with automatic counter, is supplied to perform the CSR test (TB 5000). Reaction Tube Cooling System can be optionally supplied to reduce the cooling down time of the Reaction tube at the end of the test (CS 2000).
Main Features
Touch screen control unit for program and test control
On-screen trends for process variables (such as temperatures, flow rates etc…)
Alarm detection system (including input for external alarm)
Test report data output on external USB memory stick
Software to print and store test report files
Diagnostic report generation function
MODBUS data output connection available
Remote Monitoring Device for secure connection with our Service Team (OPTION)
Weighing system allows continuous monitoring of sample weight (OPTION)
DUAL OVEN Version
CRI Test System is available also in DUAL OVEN Version to improve the number of tests that can be performed.
The system is equipped with two ovens and two controllers in a single case in order to perform two tests at a time, fully independently.
New option: REMOTE MONITORING device now available for CRI Test System!
New feature now available for CRI Test System: a REMOTE MONITORING device can be optionally ordered together with main equipment. This device allows a connection over internet from the Test System to the RB Automazione Service team to monitor the status of the equipment for a preliminary evaluation of maintenance level. Our staff will suggest necessary technical activities to restore standard performances of the equipment reducing service costs and downtime for maintenance.
Delivering software updates will be also easy and quick!
Please click here to visit the dedicated page for more details about it!
Silicon carbide elements (20 elements)

Max operating temperature:

"K" type (inconel shielded)

Triple "K" type (inconel shielded)

Flow rate measuring devices

380 V 3 Ph + Neutral ( 20 kW max) - 50/60 hZ
Vertical electric oven
The electric oven consists of a steel structure placed on a frame and including the silica insulation material. Twenty silicon carbide high temperature heating rod elements are placed horizontally in a stack and are grouped in 5 heating zones to provide separate power control. Replacement of heating elements is fast and easy with no need of refractory maintenance so that oven life is very long.
Inner high temperature chamber is protected by a quartz tube.
The oven can be equipped, as an option, with a weighing system to provide continuous monitoring of coke sample weight during reduction test.
Control panel includes complete top quality control and monitoring instrumentation. Temperature of coke sample is driven by digital programmer and by multiloop digital controller to obtain the best isothermal test condition.
The temperature alarm controller ensures the safety of the oven, cutting off power in case of overtemperature.
Gases flow control is obtained by a digital mass flow meter for CO2 and for N2.
Manual gas control is also possible for checking purpose.
Multipage HMI Unit with display of main test variables, system status, trends pages and alarm page including diagnostic report generation function.
Data export to PC by USB memory stick, Windows PC software for test report print out and storage included.
Optional weighing system allows continuous monitoring of sample weight.
Optional Remote Monitoring Device for secure connection via internet with our Service Team.
Reaction Tube
Reaction tube is manufactured according to ASTM and ISO Standard dimensions and materials: all parts operating at high temperature are made of INCONEL 600 steel alloy to obtain long tube life.
A copper tube coil assures cooling down of exhaust gases. The reaction tube can be hung to the optional roof electric tackle to provide safe and easy insertion and removing into the furnace.
TB 5000 for CSR determination
Tumbler device for CSR test consists of a wall mounting double drum system. TB 5000 allows to run two sample tests simultaneously.
Electric motor and gear box
Digital pre-set counter to set up total number of revolution
Positioning feature (for a slow motion for loading/unloading purpose)
Safety cage with safety switch on the door
Emergency stop button
TB 5000 ASTM version :
accuracy of revolution speed 20 ± 1 R.P.M
TB 5000 ISO version (equipped by variable frequency drive) :
accuracy of revolution speed 20 ± 0,1 R.P.M
REACTION TUBE LIFTING ELECTRIC TACKLE
For insertion and removing of the reaction tubes
Vertical electric movement
Two controlled speeds – low / fast movement
Manual horizontal movement on rail
Max. weight 60 kg
Remote control
Rail included
Power 230 V 50 Hz
REACTION TUBE COOLING DEVICES
Digital Temperature controller
Ventilation Fan
Auto stop at preset temperature
Power 230 V 50 Hz
Model:
CS 2000 – For CRI-RDI reaction tubes
REACTION TUBE TRIPOD
Model:
• TR 2000 – For CRI-RDI reaction tubes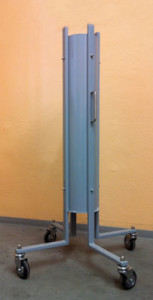 Sample preparation devices
Auxiliary equipment for Sample Preparation can be provided together with main instrumentation.
Available devices are:
Jaw Crusher for coke
Sample Splitter
Testing screen machine (with screening trays)
Sieving Machine (with sieves)
Sieves (for manual sieving)
Thermostatic Oven
Digital laboratory scale